Peak Trilogy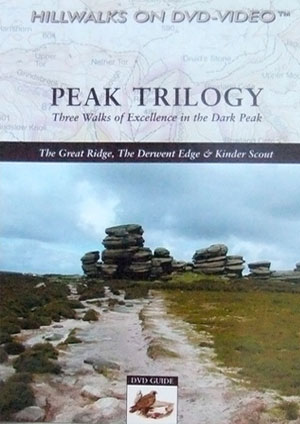 Short Description
Three combined walks of excellence in the Peak District along with video documentary of the 1932 Mass Trespass from Hayfield onto Kinder Scout.

Additional Product Information
Three combined walks of excellence in the Peak District - The Derwent Edge to Black Tor from Ladybower; the Great Ridge (Mam Tor to Lose Hill from Mam Nick) ...and Kinder Scout from Edale. All taken in ideal clear summer conditions.
* Supplement. In a 30min emotionally evokative documentary we re-trace the famous 1932 Mass Trespass route from the quarry at Bowden Bridge, Hayfield; past Kinder Reservoir to the trespass site ...and on up through the narrow confines of William Clough to Ashop Head, Kinder Scout.
The pivotal role the Trespass played in securing priceless access rights for today's walkers and the key figures involved, along with accounts from local newspapers of events that unfolded during that emotional roller-coaster of a day, are narrated - from the group's initial ebullience, to skirmishes with armed game-keepers, to exhilaration on Kinder at having " trespassed so successfully" ..only to turn to despair and dread as waiting police arrested their leaders on the return to Hayfield.
( As far as we know the only available film on the Kinder Mass Trespass. The actual site on the side of Sandy Heys where the battle with the keepers took place is identified in the DVD )
RT 3hrs 15m

Updating...