Ben Nevis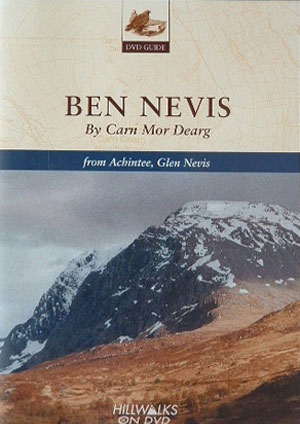 Short Description
The historic first complete filmed climb to Britains's highest peak and by way of the acknowledged finest route. Breathtaking views of the Ben's magnificent north face from high on Carn Mor Dearg.
Additional Product Information
The first complete filmed walk to Britains's highest peak and by way of the acknowledged finest route, starting out from Achintee in Glen Nevis, to leave the tourist path at the halfway lochan and drop down to the Alt a Mhuillin thence to clamber steeply up to the fine pink granite Carn Dearg Meadhonach - Carn Mor Dearg ridge and from there to carefully traverse the exhilarating high rocky tightrope that is the Carn Mor Dearg arete ....and finally the strenuous climb through shattered andesite blocks to the Ben Nevis summit plateau - complete with Victorian observatory, shelter and triangulation pillar - standing at 4406ft or 1345m above Loch Linnhe.
Tremendous views across to the Ben's awesome north face along the way - about the finest example of rock architecture in the UK.
*Supplement features a two mile walk up through the glen of the Alt a Mhullin past the CIC mountain hut and into Coire Leis, giving intimate views of the Ben's magnificent array of northern crags, buttresses and spires.
All filmed in (extremely!) rare clear conditions allowing excellent views as far as the Cuillin, over 50 miles distant.
* 2014 UPDATE. This title now re-mastered in our new edit suite to the highest DV picture quality.
Offered free with any single trilogy DVD box set ( see Offers and Homepage Trilogy link )
RT 45m

Updating...